We have discussed difference between tables in spreadsheets vs tables in Stackby.
Inside this article, we will discuss -
Build a New Stack from Scratch
You can create a new empty stack and add rows and columns as you start building.
Start by clicking the '+Add new stack' button
After selecting from the 'Create new stack' from the drop-down menu, it will create a new empty table with few empty rows (records) and columns (default fields).
You can now customize your table however you want to.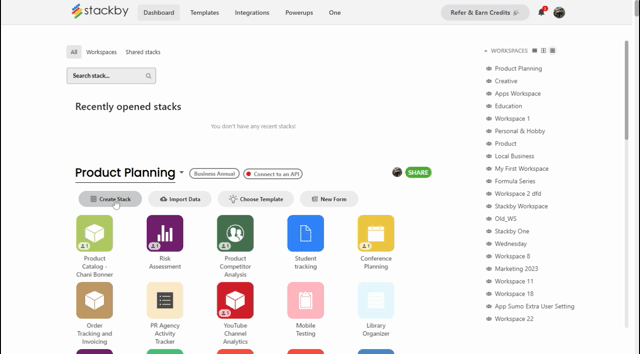 'Breaking the Grid' View
As you may see, the tables in Stackby looks like a grid with rows and columns. Grid has been constant in our lives since 1984, thanks to Alan kay's visionary article on computer software design here.
Traditionally grids in excel or google sheets have been cell in boxes. We are fundamentally changing the way grid works - by giving it superpowers like a powerful database to add rich field types, comments, attachments, connect to APIs, so on and so forth.
We call it 'Breaking the grid'.
You can use this tabular view to make one big table schema that holds all the information or small tables that connect to each other via Lookups (in future).
Use it to manage deals, projects, tasks, lists, ideas, campaigns, initiatives, plans, things... you name it.