We recently introduced the "Ratings" column type on Stackby. With this column type, you can easily rate your records or can use it for quality assessment. Let us take a look at:
Adding Ratings as a column type
How to rate your records
Adding Ratings as a column type
Ratings is a column property on Stackby. So as with every column you can either double click on the column heading or click on the down arrow and select the column property settings.
Select Ratings as the column property from the column property list

Select the icon that you would like to use for rating - right now we have 10 different type of icons that you can use

Next select the number of rating your would like to keep in the column (say 5 stars or 10 stars) - we have a rating range from 1 to 10

Click on Apply and you are done with setting up your rating column in the stack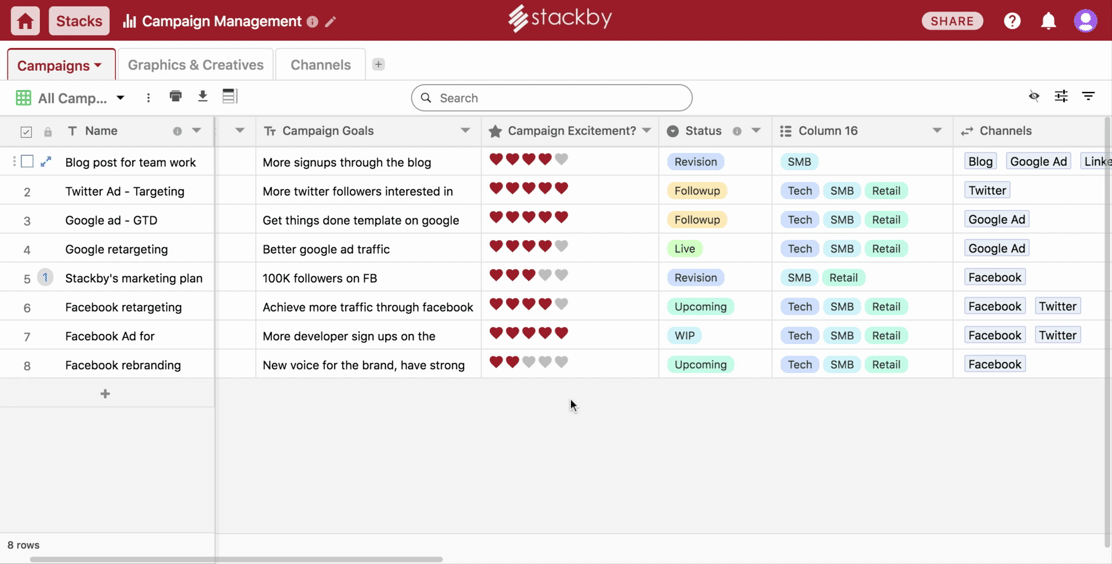 How to rate your records
Now that you have set up the rating column in your stack, you can go ahead and test it. The icons will show in gray in the column and you can select the rating by hovering your cursor over the icons in the cell. As you select, color will fill in the rating icons (please note that the color depends on the color of your stack). Select the number of rating you want to give.
You can also go back and change the rating. Say you have given 5 stars initially but realize that you want to give only 2, go back to the particular select and hover the cursor on the icon and click on the 2nd icon. The rating will change to 2. In case you had already given a 2-star rating and then want to go back to rating it to 0 (or no rating), click on the 1st icon in the rating list -the rating will come down to 1. Click again on the 1st icon and the rating will be nullified (or go to a zero rating).