Let us understand how billing works in Stackby for Personal, Economy and Business plans.
In this article, we'll learn -
Stackby Plans and Pricing
Stackby has a free plan for you to use. Stackby also has 3 distinct paid plans: Personal, Economy and Business. Learn about what's available in each of those plans here: www.stackby.com/pricing to upgrade your workspace. Plans are based on a workspace, not by account. You can add multiple workspaces in one account - few can be free, few workspaces can be paid depending on your needs and scale of business.
We have 3 types of pricing options currently:
1. Monthly Pricing (Per User Per Month on a workspace) - Monthly recurring subscription plan per user per month for your workspace.
2. Annual Pricing (Per user per Month, charged annually) - Annual recurring subscription plan per user per month, billed annually for your workspace (upto 20% off from monthly plans)
3. Limited time pre-paid Annual Plans (Based on your team size) - Annual recurring subscription for your workspace, fixed renewal price for life if you subscribe within the limited time offer period. Available for your team size between 3-100.


If you upgrade your workspace from free to one of the paid plans, we will count the number of users on that workspace (or stacks within that workspace) with the permissions - Owner, Creator, Editor and Commenter and charge based on that. When you upgrade to any our paid plans, you will automatically be upgraded with the premium features associated with that plan.
We do not charge for read-only users, form submissions or stack (or view) sharing links on any of our plans.


Payments
1. Which payment methods are accepted?
We accept all major credit cards. If you have an American Express card, Stripe India does not accept that. Please use either Visa, MasterCard, Discover, Diners Club, JCB etc.
2. How can I add or update my credit card details used for Billing?
You can add your credit card details once you go to your Account Settings --> Select your Workspace and click on 'Add Payment Details'. Once added, you can also 'Update' your credit card details in case you want to change it.


3. Can I get my invoice, before you charge my credit card?
Stackby processes the payment immediately on the credit card as soon as the plan is upgraded or purchased. You will get an email as soon as the purchase is made along with a receipt. We also post invoices in your account and the invoice link will be available in your account to view. We'll also send an email to the workspace owner to see.
4. What happens when I change my plan from monthly to annual?
If you're on the monthly plan and change to annual plan, you will immediately be upgraded to the annual plan but won't be invoiced for the annual amount till the end of the current month. You will charged based on the number of billable users in that workspace for a period of 12 months at an annual plan discounted rate.
If you're on the annual plan and want to change to monthly, you will be refunded via Stackby credits for the rest of the annual plan commitment within that month.
5. When do I get my refund?
We only process refunds via credits which are posted to your workspace when the next invoice is created.
In cases where we issue a refund to your credit, please wait for 5-10 days for the refund to reflect on the credit card.
6. Are there any discounts available on any of the plans?
Our plans are super competitive in value as it is. We offer free plan on one workspace and only when you're satisfied to upgrade to our plan, we offer both our limited time offer annual plan (over 70% off) and monthly plans that you can subscribe to. All the paid plans come with increased row limits, attachment space, API integrations and other premium features associated with the plan like Powerups or Apps (coming soon).
7. Can I split payments into smaller payments?
Our payment system is designed to take the full invoice amount in a single transaction. Please choose if you want to pay for Monthly or Annual plans based on your needs.
8. Why did my payment fail?
Stackby processes the payments through Stripe. Please check this link why your payment failed or just reach out to us on support chat


Billable Users & Collaborators
1. Who counts as a billable user?
On the free plan, any collaborator with any permission type is free of charge. On the paid plans, the billable users are the ones with Owner, Creator, Editor and Commenter types. We don't charge for read-only users, form submitters or anyone accessing the stack via embeds, share links etc.
2. What are the different permission levels?
Here's the overview of all permission types in Stackby.

3. Can I see a list of all my users?
You can see it in Account Settings --> Select Workspace --> Workspace Info

4. Can anyone on my workspace invite other user?
Any user can add other user in the workspace, at their permission level or lower. You can also choose to disable 'sharing' for that user in the workspace and prevent them from sharing stacks to others.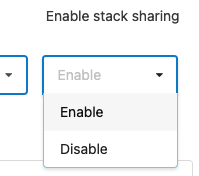 5. What happens if I change the billable users on my workspace?
For Monthly Plans
If you add more users to your workspace or stack if you're on a monthly plan, the billable user will be added on a pro-rata basis on the next generated invoice for your workspace both on the previous month and the next month number of days.
If you remove any user in your workspace or stack if you're on a monthly plan, the billable user will be deleted and refund via credits will be processed in your account for the remaining days for the user on that plan.
For Annual Plans
If you add more users to your workspace or stack if you're on an annual plan, the billable user will be added and you'll only be charged additional amount for the remainder of the number of months for that user. Say, if you're annual plan is $199 for 3 users and if you add 3 more users after 6 months, you'll only be charged additional $98 for the remainder of the 6 months.
Add-Ons
1. How to enable Stackby Powerups on my Workspace?
Stackby Powerups are only available for recurring subscription plans and not on lifetime plans. For lifetime plans via AppSumo, you will have to pay additional amount one-time to enable Powerups in your Workspace.
2. Do we have to pay additional for premium features?
Each plan has associated premium features that goes with it. Our most popular business plan has almost all the features enabled (less the enterprise one). So please choose which plan suits best for your needs.
Credits
1. How do I earn Stackby Credits?
You can receive $5 for every single person you refer to Stackby. You can get your referral link by clicking here.
Go to Account Settings --> Referral and send your unique referral link to anyone to try out Stackby. For every single verified signup, $5 credit will be applied to your account. You can also see your ranking in the referral dashboard.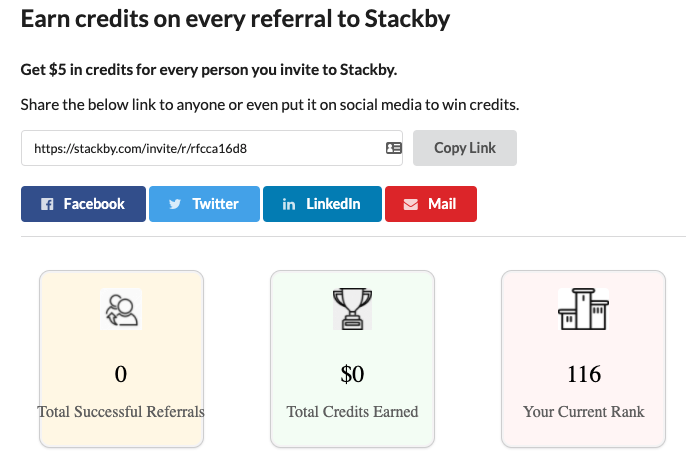 Cancellation
1. How do I cancel or delete my Stackby Account?
You can go to your Account Settings, you can click on 'Delete your User Account' to delete the user completely. But if you're just looking to downgrade your plan and keep using Stackby for free, you can do that as well.

2. How do I cancel my subscription but keep the account active?
You can downgrade from your monthly or annual subscription by clicking on the 'Downgrade' button to one the plans you choose to downgrade to.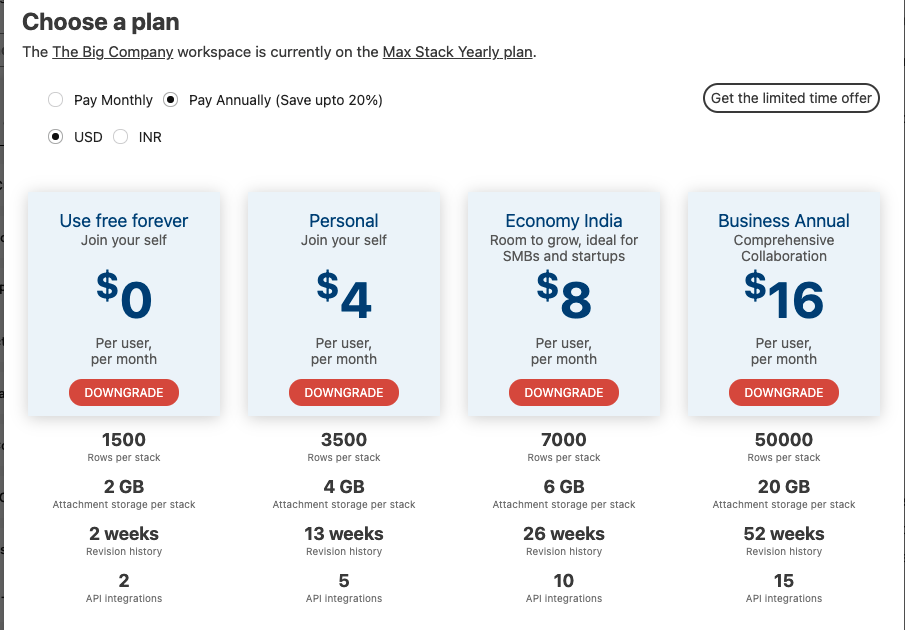 3. What happens to my shared workspace when I cancel my account?
If you cancel your Stackby Account, your workspaces are still active if you're sharing with other collaborators. But if you want to delete your user account, you need to delete the workspaces you're owner of and then delete your user account.
4. Can I continue using Stackby for free?
Yes! Ofcourse, you can continue to use Stackby for free but just for limited number of rows, attachment features and will lack all the premium features we have.